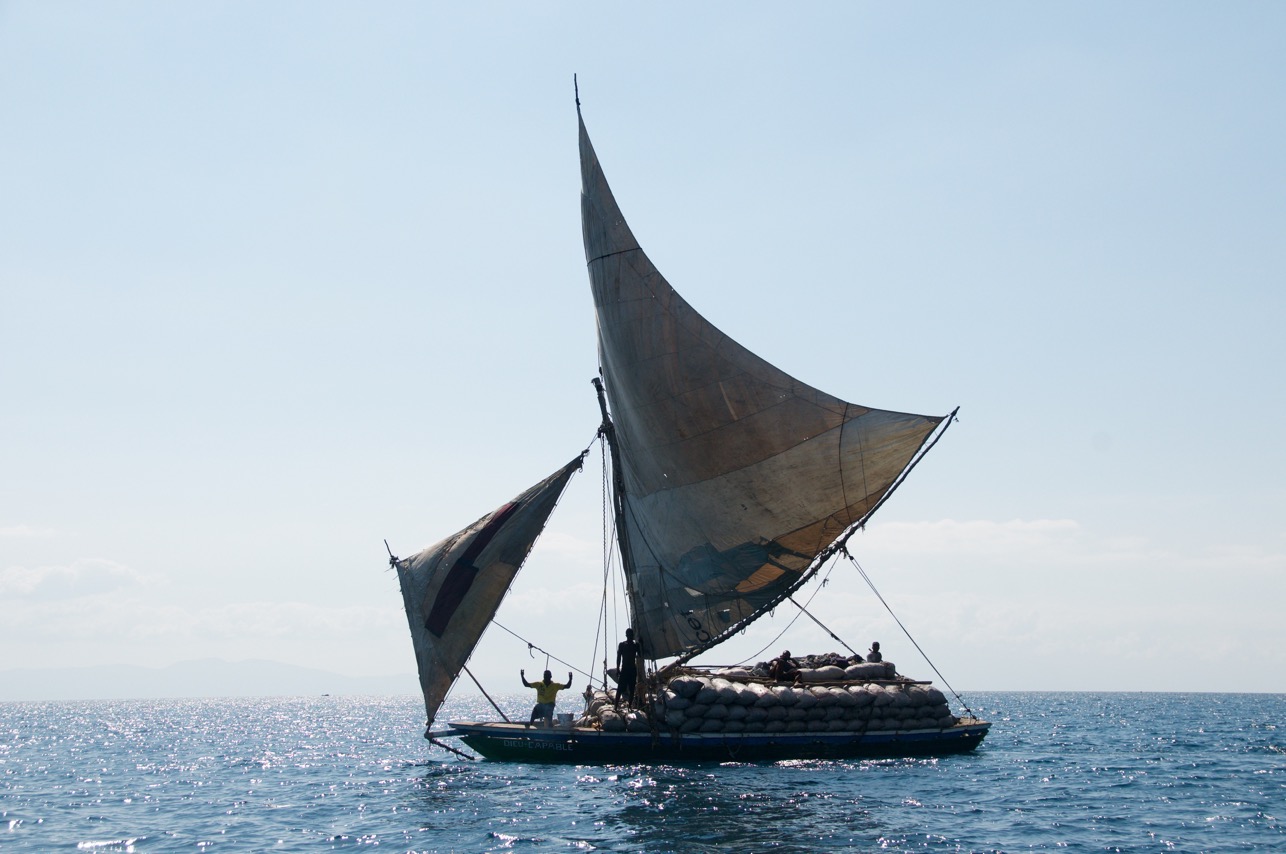 Haïti, black pearl of the Caribbean
Following a terrible earthquake on January 12, 2010, which resulted in more than 300 000 casualties, the all world gathered to help Haiti. NGOs from every country massively came to the island. It was an emergency situation, the country was devastated and several cities were razed to the ground: Port-au-Prince (60% destroyed), Leogane (85% destroyed), Jacmel (70% destroyed)…
Rural zones have not been spared and the isolation of some communities shows how complex the problems faced by hundreds of thousands of people were. It is one of the worst humanitarian crisis of the 21
st
century. Today, 6 years later, one can see marks of the earthquake every day on the island.
Haiti remains under the tutelage of international help. Half of the annual budget of Haiti comes from international sources and ¼ comes from the Haitian diaspora. Various construction and development projects are supervised by foreign NGOs, others by the State. The latters are sometimes victims of governments' changes and another often abandons a project started by one. The investments regarding transports, electrical needs and access to drinkable water are not, for most of them, supervised by the State. Reconstruction is mainly organised by foreign NGOs, even for housing, health structures, schools, etc.…
NGOs are now established in Haiti and this non-stop international help is a cause of debate, as they now represent more of an income source than development help. Emergency state is gone and this excessive assistance prevents the country to grow by itself.
As emergency and development are not always in friendly terms, we faced several critics from larger NGOs' volunteers. Indeed "competition" can be fierce and some of them act following territorial ideas. It seems crazy but sadly true. It's time to modernise our vision of solidarity and mutual assistance.
The 2010 earthquake has not improved the access to drinkable water. Cholera epidemics succeed one another and diseases linked to unsafe water are everywhere: cholera, typhoid and dysentery… Two main, and most current, options to obtain drinkable water are natural springs and reverse osmosis treatment. In cities, water is bought by gallon, those large blue cans you can find near the coffee machine in our offices. Here, water is treated by reverse osmosis. Nothing is left in the water; even minerals are filtered. In rural areas, people collect water in wells, springs or rivers: the same rivers where they clean their clothes, cars or themselves. One is also likely to see some donkeys or goats walking along the riverbank. It is the ideal environment for the development and transmission of diseases… Haiti also suffers from massive deforestation. Poverty forces people to cut trees for coal. This coal will often be used to pay school for kids. Just have a walk around in Haiti and you will be quick to realise it. The ground is naked; it's obvious! Large sections of mountains are razed, there is nothing left.
However, behind such gloomy review, one can find a fantastic country with enchanting landscapes. Life is in full swing, people run under a blazing sun, in a festive and smiling atmosphere. White doesn't go unnoticed, and for good reasons, there are none "en pile" (Creole expression for "a lot"). No aggressiveness, a lot of curiosity and most of the time a large smile with this famous thumb-up that we discovered in Cape Verde.
On January 3rd, mid- afternoon, we arrived in the large bay of Jacmel, small town of 50 000 residents, south of Haiti's southern peninsula. We quickly met Philippe Petit, our local contact. Living in Jacmel since 2010, Philippe works on the rebuilding and repairing of houses destroyed by the earthquake.
They use local construction techniques and traditional Haitian architecture. Small anticyclone and earthquake-resistant houses, build with local materials, by local workers and "Boss" (site manager). A roof is the basis of personal achievement, isn't it? The main objective of our collaboration with Planète Urgence is to equip each of the 60 last houses built with 1 filter, as well as the 4 numerical centres (primary schools equipped with video projectors and interactive boards) built by the same construction programme. Each time a tree is chopped for building a house, 10 are replanted. We planted 300 trees, financed by donators during our crowdfunding campaign.
Nearly every day, Philippe comes to pick us up in front of the beach and we are leaving with a 4×4 car for the different villages around Jacmel: Sable-Cabaret, Lamontagne, Morne Ogée, Lavial, Bassin Bleu, Les Orangers… We meet those who benefit from the houses, and who will also benefit from the filters. We are delighted to be able to have a first privileged contact, even before starting to talk about the filters. The use of the filters is often easier to accept once connections with locals have been created. They are all different: young and less young, most of the time entire families. All have lost a lot during the earthquake and all want to start again. We have operated 7 distributions, a total of 64 filters.
In addition to this collaboration, we met Max and Henry from the Aquadev Foundation, in the Grand Goave bay, north of Jacmel. There, Aquadev provides help and advice for the small fishing communities around the bay. They work in a very interesting way. By offering quality expertise to develop the economic activities of the fishermen, they allow people to really invest themselves in their activities. The goal of our collaboration is to provide a healthy and drinkable water but also quality ice for the fishermen to preserve fish in good and safe conditions. Indeed, a well-preserved fish is worth a higher price. One of these small communities lives on an artificial islet, between Grand Goave and Lagonave Island. This is a trip out of time. For 3 generations, fishermen have layered corals, shells and rocks on a shoal to build and expend their islet. The result is striking: a real island, build by hands, 40 cm above sea level, smaller than a soccer field and 400 to 500 residents live there.
Hygiene is not number 1 priority and waste piles up. It mixes with corals and often ends up in the sea. As Max told us, "empty stomach has no ear". Waste management will be a problem for another time. Primary needs are the main issue: eat and drink. Filters will help. 6 filters were given, 10 others are on site, ready to be distributed if the first tests are convincing. Those filters will help to clean drinking water of uncertain quality, bought in Leogane, but also to produce clear and pure ice. They will therefore fit in the economic development of the community.
After 3 weeks spent in Haiti and 84 filters distributed, we are setting sail again. Direction the San Blas islands in Panama to meet the Kunas.