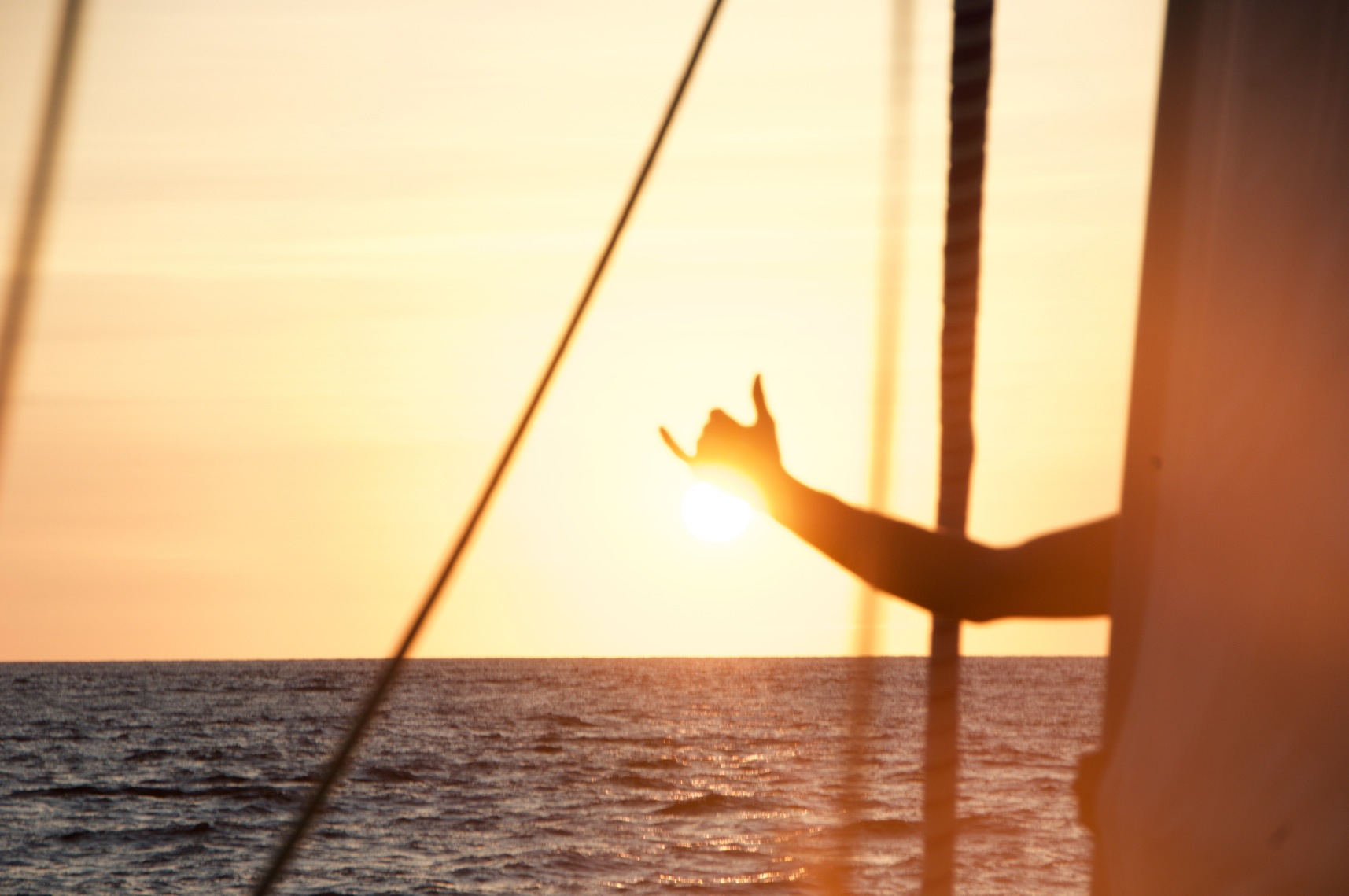 Transpacific – From Ecuador to Gambier Islands
Ecuador is a country rich of natural resources and opportunities. On one side, due to its green, fertile and various landscapes but also, on the other side, due to its people, whose moral strength has no equal, as proved by our several encounters with the locals. We have learnt a life lesson there that we will never forget.
We know need to get ready for something completely different. One of the biggest challenges of our round-the-world tour is waiting for us: crossing the Pacific Ocean. From our current position in Bahia de Caraquez, we have to sail for more than 3500 nautical miles (or 6500km) to reach the first land to the West: The Gambier Islands. Williwaw will therefore have to sail for a month, without breaks, without shelter and without fresh food supplies. Williwaw doesn't seem to be very worried, someone told it that the Pacific was named rightly and that it was a test of endurance and perseverance. All the bearded men on board are getting ready, psychologically, to be away from all other form of company than the two other bearded men next to him. And believe them, it is not easy. Before departure, we collect the equivalent of 6 months of food supplies in Antarctica and we fill our wood chests of sweets and candies to light up our long days at sea.
We set sail on May 10th, closely followed by a friendly ship, Luc and Nelly's one. Luc and Nelly form a happy couple and are from Brittany, France. They left France for a round-the-world tour few years ago and have no fixed return date. Being retired is convenient as they have more time to enjoy things. Their boat, a 47 feet catamaran is much larger than Williwaw and probably much faster. Sadly, we won't be able to follow them and arrive together at the Gambier Islands to share all our intense moments and experience at sea. We are therefore leaving the Bahia de Caraquez's bay with a high tide, on an early morning to avoid sandbanks. Weather forecast is good and the wind seems to blow on a regular basis. The strategy is partially planned by our new captain, Nicolas, who has now the privilege of the large back cabin, and he has decided to sail as closed to the West as possible to benefit from the trade winds while sailing south. Luc, captain of Folavoahl, has decided to follow the coast to the south all the way up to Peru before following the West winds. Good option? Wait and see.
We are now sailing west for a week. What is strange is that the winds we were waiting from south-east are in fact blowing from south-west, i.e. exactly where we want to go. Williwaw shows us its performance when sailing upwind… and it is not great. Luckily, the sea is not too strong. After six days, the wind turns south and allows us to adjust our route. We only did 679 nautical miles. This is not a lot and we were hoping to go faster. Patience is key. We decide to contact Luc to check where Folavoahl is, probably far in front of us. Its south option should have allowed it to avoid upwind navigation. The answer is surprising. The catamaran is still along the Peruvian coasts, more than 500 nautical miles behind us. What happened? Was the coast option the wrong one? In fact, it would have been the right one if a fisherman net had not block the boat. It took 3 or 4 dives for Luc to free the propeller. After such news, our situation is actually not that bad.
At the beginning of our second week, the wind starts turning south and we can move forward directly to the Gambier Islands, it feels great. Williwaw goes at a great pace. Wednesday 18th is a blessed day. The adjusted sails do not move, the ship is moving so well that we cross 167 nautical miles in 24h, our record for this journey. The most important thing is that we finally got our first fish, the last time we had one was ages ago. The beast fights but does not resist to our perfected technique. We have worked on it many times and we are at the top of our art. One of us pulls the line up across the boat, the other winds the line on a spool and the third one focus on the killing instruments.
– A rum bottle? Isn't that too early?
– Naan, it is to get the fish to sleep so it will not suffer (according to Nicolas)
– Ok, try it, but not too much!
Once on the deck of the boat, we through the fish into the cockpit as fast as we can. At this point, we discover a pretty dolphinfish, not too big, but well fleshy. Nicolas puts some rum into its gills but it does not seem to put it asleep… On the contrary, it looks like a torture moment more than anything else… Quick, a knife to stop the suffering! After that, the cutting work starts but we will not provide more details. Impressive how many recipes one can make with 4 good dolphinfish fillets: garlic butter steaks, makis, pasta and even burritos!
The rest of the weekend is more complex. The Pacific Ocean is a fighter and shows us all his accumulated strength. Swell increases and the boat starts shacking even more. This is not a good thing for the equipment and the crew's well-being. We sadly had issues with our « bout dehors » (a tube at the front of the ship used to support the large front sails) then with the mast's foot which started squeaking in a worrying noise. Nothing too bad right now but we have to take care of good old Williwaw. We adjust the sails to support the boat as much as we can while trying to keep up with the good speed we have had so far.
The third week will be "patience week". The wind slows down, the trade winds aren't well established and the stillness arrives. Weather forecast predicts 3 days without wind. What should we do? It would be a shame to waste all our gas for that, right? The unanimous decision is therefore to wait for the wind. We reduce the engine's use to 2h a day to desalinise water and charge batteries. Days can be long when you are not motiving… The boat pitches, sails beat and the crew's nerves start to lose their calmness. If we want to avoid the pitching, we can remove the sails but if we remove the sails, nobody moves and it is mentally hard. For our nerves' health, we therefore need to find something to do. This is the creation of a « Do-it-yourself » daily moment. We start with the windlass (engine helping to lift the anchor) which has weird electrical connections; then the electric generator which is slow to start; then solar panels and their low output and finally the engine alternator which stopped working days ago. Activities were definitely on the menu and that was a relief because 3 days later, we still had no wind. We had to wait 6 days and, believe it or not, moving forward again is a great sensation.
For their part, Luc and Nelly had the same problem and, like us, they have waited and waited for the wind. The lead we had and which decreased during the second week is now stable. It is quite nice to know you are not alone in the middle of this ocean.
At the end of this still and calm period, we have spent 21 days at sea and we start to see the end of it. Two-third of the distance has been completed and the rest should follow. The wind is back in our favour and previous calm days have reduced the swell. Williwaw is moving forward again and at good pace to Polynesia. On board, we already dream about blue lagoons, flowers collars and a good meal with fresh products! But before that, we need to deal once again with the Pacific Ocean's swinging mood. Either they named it wrong or we have no luck at all! Forecast predicts 4 to 5 m swell coming from the south and due to a storm in higher latitudes. No time to wait as this depression is catching up with us and strong winds could follow.
And indeed there are! The winds increase and for the last 36 hours of our trip, war is declared. Winds blow at 35 knots (65km/h) and storms come one after the other, attacking everything on the deck. We cannot leave the helm as we need to support the automatic pilot. One after the other, we put on our oilskin coats and fasten ourselves to the boat to control the helm under the rain for hours and hours. The sky is dark, the sea unleashed and the rain keeps rinsing the deck of our boat. Thankfully, the Gambier lagoon is not far. Irony is it is even too close.
Indeed, we have to slow down to avoid crossing the lagoon pass at night and with our current speed, we should arrive around 9pm. Sunrise is only at 6am and we do not want to turn around in circle for the all night so we have to slow down. The decision is therefore to use the genoa only while working out the speed we can allow our boat to have. Williwaw seems to dislike this strategy as it keeps shaking and does not let us rest for a minute.
It is only at 5am on the 10 June 2016, a month after our departure, that we finally arrive in more welcoming waters. The archipelago protects use from the swell and we slowly arrive to the lagoon's entrance while waiting for the sunrise. At 8am, we are safe at the Rikitea bay on the Mangareva Island at the Gambier. Luc and Nelly aren't far away and arrive in the afternoon. This is with great pleasure that we welcome them and share a rum toast to the Pacific sailors. Not so pacific in the end…