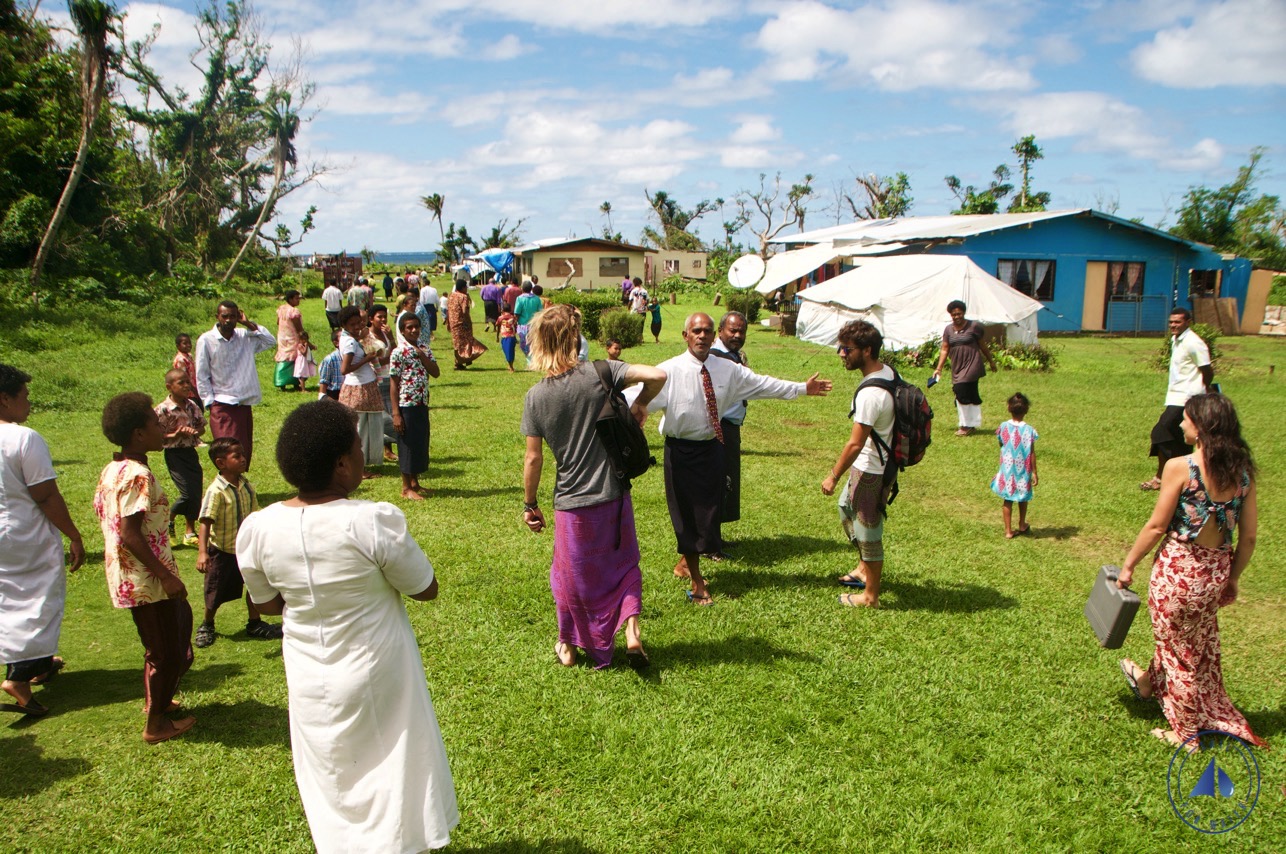 Early August 2016, the Williwaw and its crew, still accompanied by Thibaud, aka Bitos, Thomas's brother, cast anchor in the bay of Suva, the capital of the Fiji Islands, on the island of Viti Levu. A few days later, and with a tortoise on his shoulder, Thibaud leaves us, to be replaced by Mylène, a friend of Thomas's.
Fiji, these islands at the ends of the earth, well-known for their paradise-like landscapes, the land of giants, gentle and welcoming all at the same time, and rugby.
As soon as we arrive, we can in fact vouch for these legends except for the tale of paradise-like landscapes. The bay of Suva is highly polluted, the water is dark brown, smoothed out by a film of oil and fuel. A great deal of waste and other unidentified objects float alongside the boat. At the bay's entrance, one side of the channel is home to a surf spot. A surf spot said to be famous. But all we find is a heap of wastes from the bay, brought there by tidal waters, as well as banded sea kraits, which are sea snakes, attractive and dangerous in equal measure, capable of killing a man, although so fearful that they become harmless. For as long as we remain in the bay, we will not be able to put the legendary landscapes to the test. And we will be forced to stay put for almost two weeks. We are in fact waiting for the filters we have been developing since we set out on this adventure with Arkema, our main sponsor. 300 filters are on their way, and 150 of them have been promised to the people of the island of Koro, devastated by force 5 cyclone Winston in February 2016.
Meanwhile, the other legends are indeed genuine. Fijians are giants, but gentle giants whose welcome is unequalled. Bula Vinaka! Bula! Bula! As soon as we set foot on land, these words ring in our ears. Welcome, hello, hello! Fijian and proud to be so. Their motto. They all proudly wear the colors of their homeland. Especially so as they are represented at the Rio Olympic Games by their rugby 7 team, major medal hopefuls. No lack of enthusiasm here! We find plenty to do. We meet with our local contacts. Francesca, a Franco-Italian young woman, who has lived in Suva for almost 2 years, acts as the vital go-between between the Fijian Ministry of Health and us. This is the first time that Sail for Water has worked with a ministry. We meet with Suli, head of the Water and Sanitation Department at the Ministry of Health, with whom we draw up a detailed action plan.
One day we ask a young man the way. We begin to chat and he tells us that he is a member of the Suva rugby team and that he is due to play two days later. He suggests straight up that we go and watch him play and later go with him to watch the local Fiji-Tonga classic match. Rugby is a religion here, which maybe explains why they are all so tall! Every street is plastered with posters supporting their Olympic team. The town now lives only for the victories of the Fijian team who are now in the finals of the Olympic Games. There is a buzz all around. This is the country's very first chance of an Olympic medal. The titans team does not give in to pressure and wins the first Olympic medal in the history of Fiji, and it is a gold medal! The head of government immediately declares this momentous day in the nation's history a public holiday. It was a high point and we are more than happy to have been able to share it with the Fijians! Go Fiji Go!
Now back to our mission.
After talking with the Ministry of Health, finally the small island of Koro was chosen for our filters donation. Winston caused havoc in Fiji, but the island that suffered most is Koro. No doubt we will find out for ourselves when we reach the island. Everything was blown away. On Koro, people talk of a cyclone "passing once then turning back and passing a second time!" The island, very green normally, was left void of all its leaves and so turned brown. Villages, all on the seashore, and despite coral reefs, were swept away by huge waves which destroyed everything in their path.
Unfortunately, we receive some bad news. Because of a logistics glitch we will not be able to hand out the French filters. The news comes as a bombshell. As we are about to set off for Koro the next day and begin handing out the filters straight away, we are left without any. This is the first time we have set up a mission with a government, and here we are, the day before the operation, with no other choice but to backtrack. The next phone call is not going to be the most straightforward, or the most pleasant, and yet we have to tell the Ministry of Health that the promises we made to them over the last few weeks have now fallen apart. We have no filters.
We seem to be much more concerned that the Ministry, however: "Don't worry, no problem, we are going to give you the filters you need. After Winston we were able to recover some, but we don't have the money to buy the buckets or set them up. We can let you have 100!" Most definitely, these Fijians will never stop surprising us. The world was turned upside down, but in the end we all help each other out. No matter where the filters come from. The main thing is that they work and can be of use to those who need them. These filters are exactly the same as those we have been using from the start. The Ministry of Health has saved our mission, and we help them hand out their filters which had sat in a corner somewhere for several months.
We sail away from the bay of Suva, not without satisfaction, heading for Koro, a little further north. We will get there next morning. We cast anchor off Nasau, the main village on the island. Our maps show no detail and coral heads break through the water surface. A local fisherman fortunately climbs on board to guide us to the best location. We have barely set foot on land that we are welcomed immediately by "Bula, Bula" greetings. Children run up to say hello. What a welcome! Joape, head nurse on the island, is our local contact. He meets us on the beach and takes us straight to the main village hall where the chiefs have been expecting us.
It is customary for all visitors to bring a gift to the village chiefs. Fijian people love kava, a local root which they grind into a powder before mixing it with water to drink. So we arrive with a nice bunch of kava. The chiefs look delighted, sit down cross-legged in a circle on a coconut mat, and invite us to join them. While a young man goes away to crush the kava, one of the chiefs asks us to explain why we are here. We present Sail for Water as well as the filters. We need their permission before being allowed to hand them out to the people of the island. Once they have granted permission and the usual formalities are over, it is time to start the traditional kava welcoming ceremony. This ceremony is the perfect illustration of the Fijian spirit. Of their generosity of spirit and their big-heartedness. Nowhere, from France to the Fiji islands, have we been given such a kind, warm and considerate welcome.
One of the chiefs places before him a very fine vessel carved from wood, a tanoa, a kind of bowl. Next to it stands a second bowl, full of water, over which he lays a piece of cloth. He then places the kava, now a powder, on the cloth. He folds the cloth over to prevent the powder from escaping, dips it into the water and kneads it at length. The water takes on a greyish brown color, not unlike mud in fact. Once he is happy with his mixture, he pours it into the tanoa and begins to stir with a cup carved out of half a coconut shell. Then he fills it up and passes it to the oldest person first, who says "Bula Vinaka" before drinking in one go. Everyone present then claps twice or three times and says "Wazaa". The tanoa and his attendant sit opposite the chiefs and the guests. Everybody else sits behind the tanoa. The tanoa's attendant then fills the cup and passes it to every participant in turn. Meanwhile we talk and laugh together. An extraordinary moment, what an ambiance!
We can't deny that kava does not taste particularly nice. Even the Fijians pull a face when gulping this drink. And yet we drink 25 to 30 cups easily. Kava is said to produce a state of calmness, relaxation, well-being, and a sense of euphoria almost. But you need to drink plenty of it. And to drink plenty of it requires some effort. Personally we are not aware of any such effects, and it is not for lack of drinking plenty of cups, on the first day as well as every subsequent day. An elder tells us: "Kava is like your wine, the older the better! That one is probably 7 years old. It's good stuff!"
As the ceremony progresses, more and more people join in. There were 6 or 7 of us at the start, and by the end there are over 50, all sitting cross-legged and drinking kava while smoking local tobacco leaves rolled up in newspaper. Fijian people sing beautifully and our hosts give us an outstanding rendition. We attempt some singing, but do not even come close to them. At one stage a woman walks towards us and starts smearing a white powder on our faces. She starts with us then proceeds to paint the entire gathering. An elder who could tell we were somewhat puzzled by this, says to us: "This powder means you are welcome within our community, that we accept you and that we are pleased to welcome you. So the women smear white powder on people's cheeks!" So here we are, surrounded by giant Fijians, drinking mud and singing with talcum powder on our faces. We are on the other side of the world; what an evening! Eventually, with their bellies full of kava, we make them a promise to let them try the French kava, pastis. Admittedly, the color of mixed pastis drinks is not unlike that of Fijian kava. They will love it!
Following this great party, it is time to get to work. In a few trips we unload our cargo of filters and buckets on the beach. We have plenty of help to carry it all into the main hall. From there we get into Joape's car, the only car on the island, and he drives us to two villages: Mudu and Nacamaki. Both villages are the worst affected by the lack of drinking water. They do have water, but when you see its color, it is like the color of kava, but without kava. Yellowish brown. In the first village, we train the chief to use and maintain the filter. He will then allocate the filters to the people as he sees fit. We cannot interfere with this process, after all he is the chief. In the second village, the chief has brought together one member from each household. We stand in an old UNICEF tent, at night time, performing demonstrations and giving explanations. Cheerful by nature, these Fijian people turn this school-like moment into a party! If you want to spend a fun evening, just invite Fijians!
Meanwhile, Joape has invited us to his home for lunch with his wife and son. Fijian cooking draws from the large Indian community on the islands (almost 40% of the population). On the table stand more than 6 or 7 dishes. Curried octopus, coconut fish, spiced chicken, pasta with vegetables. The banquet of the year. Time passes quickly on Fiji and soon it is time to leave. An emotional goodbye as once more we have to take leave of our new friends. Koro, Fiji, if we can, we will be back!
Before heading west, we stop over in Suva. We are expected at the French Embassy for a press conference. The main local media are there. This is the second time, the first one being in Haiti, that we have done this. It is quite fun and always enjoyable to find a small corner of France on the other side of the world. We are heading west, to the sunny part of the Fiji islands. Viti Levu and its mountains block all the clouds, which every day discharge their moisture onto Suva and the east of the islands. Sail around the large island, head north, and you will come across the gates of paradise. I choose my words carefully.
Islands with white sand beaches, covered in coconut trees, clear blue lagoons like the sky. Put your head under water and you will discover another world. 1001 different fish of all colors. Not 1 of each, 1000 of each. You can hardly believe your eyes. We moor the boat in one of the most beautiful places of our entire voyage! We can confirm the legend. Then there is surfing. This is a surfing paradise. Cloudbreak, Restaurant, Namotu left, Swimming Pool: surf spots known the world over for their unbeatable, regular and spectacular waves. Perfect waves over multicolored coral reefs.
These waves are not for us at our level, but we make the most of a beautiful few days before setting sail for new adventures far away in Papua New Guinea.