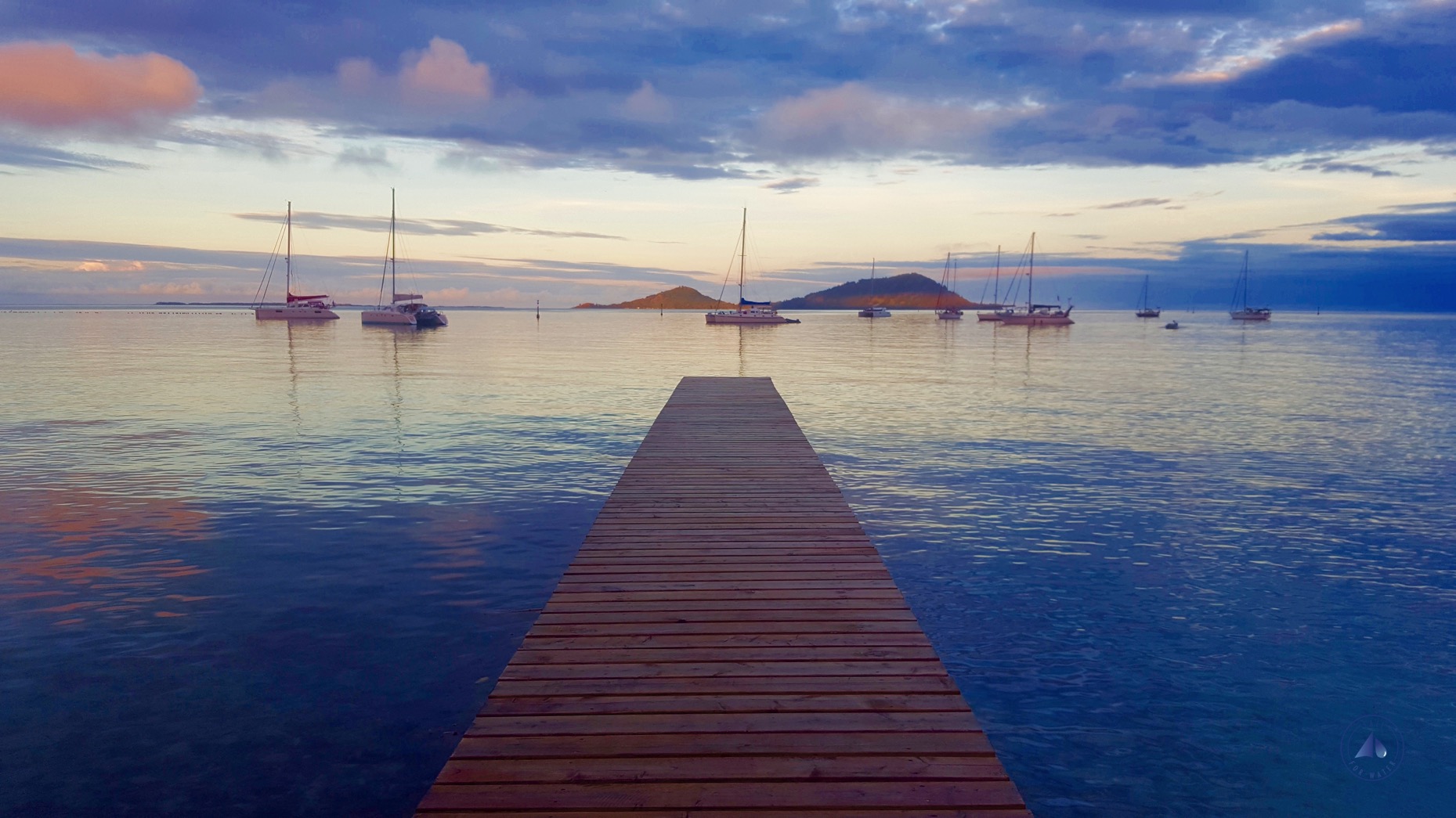 French Polynesia – Paradise on Earth
This long month at sea has been challenging in many ways. First of all physically with all those restless and interrupted nights but also socially as the lack of communication with and the absence of loved ones remains an ordeal. What great joy when we sail into Rikitea on Mangareva in the Gambier Islands. At last we can now get in touch with our friends and families and tell them about our adventures over the last four weeks.
Our stop-over in the Gambier was full of encounters. First with pearl culture. The Gambier lagoon is home to over sixty pearl farms which undoubtedly produce the finest pearls in Polynesia if not the world. Over there everyone has worked, is working, or will work in pearl culture. It is a religion. At a school show we attended at the end of the year, we saw the outfits of children and parents all embellished with pearls, some of which huge.
We also saw houseboats, on which mum, dad and the children live, are home-schooled in the morning through the CNED distance learning scheme, and enjoy learning experience in the afternoon… When we moored in Rikitea, 3 children were talking by VHF radio to organize the pains au chocolat morning round or find out who was bringing the dessert for the next picnic on the beach. Including our friends Luc and Nelly and us, 5 boats were moored in the lagoon's various berths. Rikitea, Aukena, the "airport's motu", all reminders of good times spent with our friends in Gex, Mambala, Quatra and Folavoahl. We will never forget the barbecue at Bernard's place on the island of Aukena where we enjoyed a lovely pig roast (a whole pig as a matter of fact), which made a few picnickers sick… probably through eating undercooked pieces.
There were also encounters with the locals which will remain etched in our memories, like Vatéa from the restaurant "Chez Joe" who gave us the warmest welcome on our first evening on the island, or the untamable Bernard and Henry who drank our last drops of Panama rum dry. The same Bernard who gave us two chickens and a rooster so we could have fresh eggs every morning. Unfortunately, after one week inside a cage, 3 escape attempts and 0 egg laid, the CLP or "Comité de Libération des Poules" decided and decreed to release the poor hens. Meanwhile, the cockerel, renamed Bernard, ended up in the pot, giving us a nice meal that we shared with Luc and Nelly.
After almost three weeks on the Gambier Islands it was time to up anchor and head for the "metropolis": Papeete. We sailed for 8 days before reaching the south of the island of Tahiti. Our arrival was idyllic and merits being told in the present tense. It is 4 am and the early morning dawn gives us a glimpse of the majestic island of Tahiti in the distance. It is so high that it looks quite close, and yet it takes us a few hours to reach it. By 6.30 am we can make out some kind of smoke surrounding the island, which is in fact the foam lifted by the waves crashing into the lagoon. We can also hear the steady ebb and flow of the rollers or surfing waves smashing into the coral reefs. It makes us shudder. At 8 am we sail through the most southerly channel in Tahiti: the Teahupoo channel. For surfers like us this is a high point. We are encountering one of the legendary surfing places. We can feel a momentous vibe. To our right a dozen or so surfers glide on the water, the surf is hollow and must be about 3m high. Not very big for Teahupoo but already quite impressive. A dozen dolphins swim alongside us and stay with us through the channel. They jump, turn and respond to our shrieks of joy! To our left lies the huge lagoon of Tahiti, its waters are calm, clear and turquoise, harboring thousands of wonders hidden in the corals. It is a water paradise. All our senses come alive, Every second of this magical moment is etched into our memories. Ahead of us the mountains of Tahiti, greener than a putting green, slope majestically down to the water's edge. They seem to rule the lagoon, they tell the history of Tahiti with their jagged ridges, sharp fault-lines and dizzying peaks. They are home to fauna and flora that are both dense and wild, and look beyond reach despite being so close.  We know it, not everyone receives such a warm welcome, and we feel privileged. At 9 am we dock in the small fishing port of Teahupoo, looking forward to a day full of discoveries. First we set off for the "end of the road", the most southerly point you can reach by car. We have a chat with the locals who have only one event on their minds: the surfing competition of Teahuppo. It is not for another six weeks, but the ambience of the event is already palpable. We eat a burger, looking out to the sea, and Tim, one of the first to have surfed at Teahuppo over 25 years ago, invites us to go and watch. We can even take our boards and jump in the water if we feel like it… It's tempting but scary all at the same time. Fortunately for us the swell subsides and the surfers get out of the water. It is as if the waves are waning down to our level, so we might be lucky. One hour later we are on Tim's boat with his nephew. Aged 14, he has already been surfing at Teahupoo for the last 2 years… This young chap was probably on a board before he could walk and in the water before he could swim. He leads the way and is the first to jump in the water. No sign that he is afraid, he takes on the waves and even tells us that they are small and gentle… Clearly we are not looking at the same thing. Without hesitation, Romain warms up and encourages Thomas and Nicolas who are rather more worried, and he jumps in the water. The other two soon follow. We paddle to get behind the waves breaking and somewhat gauge the elements. The swell is uneven and the waves do not all break in the same place. It's not easy positioning yourself to be able to ride the wave without being struck by it. A quarter of an hour later, with the three of us still lacking the courage to have a proper go, Tim calls out to us. He has seen a shark's fin about 50 meters behind us, and he is aware that for the past three days a tiger shark has been roaming around the area, hunting whale calves. We may not be whale calves, but it is still not worth staying in the water. And at that very moment a series of big waves rise up. Romain misses his duck dive (diving under an oncoming wave when paddling out) and lets go of his board. The strain from the water is too strong and the leash does not hold out. The board is carried into the lagoon where it is swallowed up by a wave which breaks it into two pieces. Thomas also misses a duck dive, is 50 meters further down and has to paddle to get back in the boat. This is a potent moment which we won't forget in a hurry.
After this outing in Teahuppo we decide to set sail again and head for Cook's Bay on the island of Moorea. The idea is to see as much of Polynesia in as short a time as possible as Nicolas is due to take a plane 4 days later to join his sweetheart in France. So we hire a car in Moorea to do some sightseeing along the shore. But the reason for our trip is already clear: we want to mark our skin with this stop-over in Polynesia. So we are going to see Mate, a traditional tattoo artist. He specializes in traditional tattooing using a hammer and a pig's tooth sharpened into a needle, but we are contemplating normal tattoos only. A compass rose on his shoulder for Romain, a sunrise on his forearm for Nicolas, and a paddle on his arm for Thomas. All according to Polynesian designs. That is it, we are marked by the Pacific Ocean. Despite the beauty of Moorea and its hiking, there was little time to stick around. We set off for Papeete which is just two hours' sailing. Objective: boat repairs!
The Pacific Ocean has not been particularly kind to our equipment, and it is time for a major maintenance effort. We stay at the Papeete marina for two days, just enough time to change our crew. While two brothers go their separate ways when Nicolas leaves us, another two brothers get together with the arrival of Thibaud, Thomas's brother. So we set sail for Arue to the north of Papeete where we moor. This is where we carry out our repairs. Genoa, spinnaker, forward windlass, engine, generator, nothing will be spared. Fortunately Julien is there. He is a friend of Thomas's, who comes from Guadeloupe and attended the same engineering school, and he lends us his car and takes us to the right places on our days off. For example, surfing in Teavahino, Taapuna and Papara, and diving near Taravao on the drop-off of the turtle drift. We had a lot of good times in the evenings with his mates when we encountered the festive side of Polynesia, which is in fact just like a big family. Of course we were sorry not to stay longer, not to go hiking to the top of the island, not to visit the islands of Huahine, Raiatea, Maupiti and Bora Bora, but we were expected in Fiji in early August for a major new mission and we had 15 days at sea ahead of us to get there.
The three of us up anchor as we so often do, except that Nicolas has been replaced by Thibaud. Romain is the provisional skipper. This sailing episode is one of the most peaceful we have ever had. No hard-hitting gusts of wind, no untimely breakages, only good fishing including the finest dolphin fish since the start. Unfortunately there was not much wind around and so we had to resort to the engine a lot of the time to make good progress. As a result, the islands of Tonga on our route become an almost essential stopover for refuelling on our way to Fiji. The Vavau archipelago is certainly the only one of its kind. Goodbye to Polynesian lagoons, coral reefs and passes into lagoons; hello to cliffs, rocky islands and deep straits. The islands of Tonga are a veritable haven of peace for marine species. Whales swim here every day to drop their calves, feed them, or simply rest in the calm waters. Vegetation is as varied as in Polynesia despite a more arid soil and a dryer climate. There are no tall mountains here to catch the clouds drifting in from the ocean and make them burst into torrential rain. Tongan people are as discreet and welcoming as they are big-framed. Everyone here could be a rugby player.
We stay on the island for just 48 hours, long enough to refuel and prepare our arrival in Fiji, which is not especially straightforward from a red tape viewpoint. Nevertheless we make the most of the cultural artifacts of the islands to plan the decoration of our future apartments. Plenty to add to our collections: whalebone necklaces, baskets made of woven coco leaves, or beautiful mother-of-pearl.
As we leave Vavau, we decide to sail through the channels, one in particular called "Champs Elysées des baleines". We are told we will definitely encounter whales. Things seem to take a strange turn as we get there. A boat carrying tourists asks us to stay 500 meters away from the whales and not dive nearby. Then, as we observe a whale and its calf close by, our English becomes muddled and we decide to turn a deaf ear to the recommendations we are given. The idea is not to sail across the whales' path and to be very gentle with the engine and our manoeuvers so we can get closer to these mammals. Romain and Thibaud dive in the water to watch how the mother and her calf swim. Romain is unfortunately too far to see them, but Thibaud paddles hard and manages to see them swim past about 15 meters away from him. "What a sight! It makes you feel tiny. They are moving 4 times faster than me without even moving their tail!" he shouts. Meanwhile a second boat carrying tourists sails towards us and threatens Thomas to escort him to the harbor to go and see the police, so we decide to leave the area without disturbing either whales or tourists. We have had our show, it's time to let others have theirs.
Our last four sailing days before we reach Suva, the capital of the Fiji Islands, were the same as previously after we left Tahiti: very little wind, lots of engine, and a trouble-free sea. We arrive in Suva on 5 August, ready to meet up with Nicolas again, back from France, his bags packed full of presents!